In today's newscast we review the latest round of earnings reports of farm equipment manufacturers, which seem to be following the same trend of strong sales growth as many other industries. We also take a look at some other ag-related earnings, pay a visit to Horsch's new demonstration farm in Illinois and review the effects from a Trump Administration farm aid package.
On the Record is brought to you by AgDirect.

Twenty years ago, AgDirect financing was created to meet the changing demands of equipment dealers as well as their customers. With its attractive rates and ag-friendly terms, AgDirect became one of the fastest-growing programs of its kind. Today, thousands of dealers and dozens of brands across the country rely on AgDirect as a risk-free source of credit for financing, leasing and refinancing ag equipment.
Thank you for 20 years of growth and success. Visit Agdirect.com.
On the Record is now available as a podcast! We encourage you to subscribe in iTunes, the Google Play Store, Soundcloud, Stitcher Radio and TuneIn Radio. Or if you have another app you use for listening to podcasts, let us know and we'll make an effort to get it listed there as well.
We're interested in getting your feedback. Please feel free to send along any suggestions or story ideas. You can send comments to kschmidt@lessitermedia.com.
---
I'm data editor Alex Zank, here in Iowa City, Iowa at the Dealership Minds Summit. Welcome to On the Record! Here's what's impacting the ag equipment industry.
Ag Equipment Makers Report Strong Earnings
The latest round of earnings reports are showing some of the best earnings many industries have seen since the recession. The Wall Street Journal and other business publications are reporting that profits at S&P 500 companies jumped an estimated 23.5% in the 3 months through June. And based on second quarter earnings reports, it looks as if farm equipment manufacturers are following the same trend.
CNHI Ag Sales Up 20%
Besides reporting a 20% increase in net ag equipment sales in the second quarter and nearly 18% for the first half, other encouraging news coming from CNH Industrial's July 26 earnings report is its solid ag equipment order book going into the second half of the year. The company reported its order book is up approximately 15% compared to the prior year period.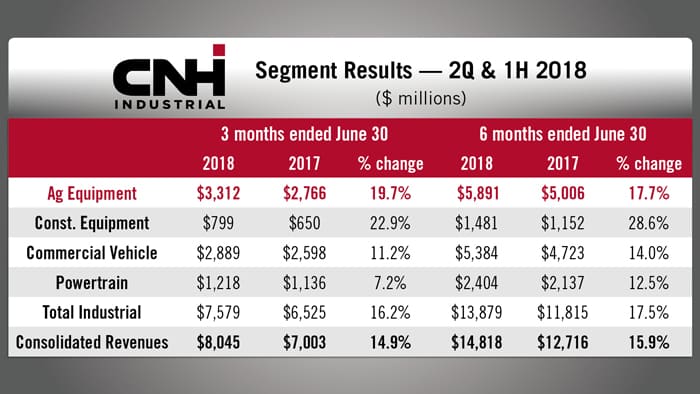 Overall, the company announced consolidated revenues of about $8.1 billion for the second quarter of 2018, up 15% compared to the same period of 2017. Net sales in its Industrial Activities were $7.6 billion during the period, up 16% compared to 2017.
The company attributed the improved farm equipment sales to a favorable end-user demand environment, with North American row-crop industry demand up 9% in high horsepower tractors and 26% in combines.
Despite the solid first half performance, CNH Industrial didn't increase its outlook for the full year, estimating $28 billion in consolidated revenues for all of 2018.
AGCO Post 17% Sales Gain
Sluggish sales in South America didn't dim AGCO's overall results as improving sales of farm machinery in its North American and European regions set the tone for AGCO Corp. in the second quarter of 2018.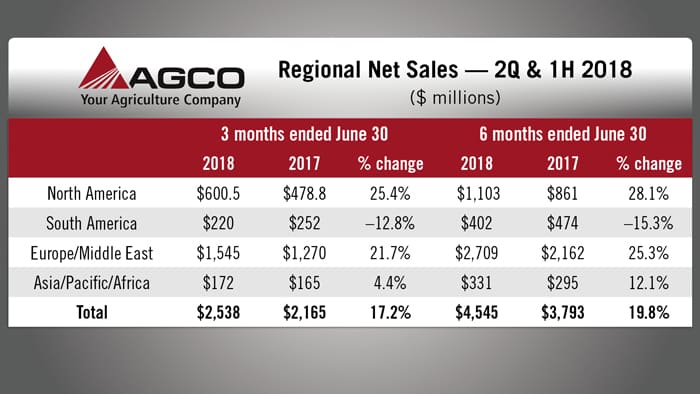 The company reported net sales of $2.5 billion in the quarter, up 17.2% vs. the same period of the previous year. Net sales for the first 6 months of 2018 were approximately $4.5 billion, an increase of nearly 20% compared to the same period in 2017.
Net sales in the North American region increased 28% in the first 6 months of 2018 compared to the same period of 2017. Precision Planting, which AGCO acquired in the fourth quarter of 2017, contributed sales of nearly $83 million in the first half 2018. "The largest increases were in sprayers, high horsepower tractors and hay tools.
AGCO expects net sales in 2018 to reach $9.3 billion, up slightly from its previous outlook.
Kubota NA Revenues Rise 8%
Through the first half of 2018, Kubota Corp. reported overall revenues increased by 7%, or $500 million vs. the first 6 months of 2017 to $8.1 billion. Revenue from Kubota's Farm & Industrial Machinery, which accounts for nearly 83% of the company's total revenue and includes farm equipment, agricultural‐related products, engines, and construction machinery, increased by 7.6% from the same period in the prior year to $6.7 billion.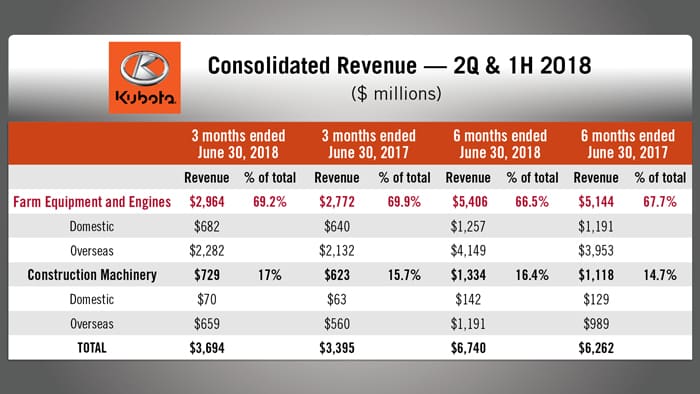 In the 6 month period ended June 30, Kubota said overseas revenue increased by 8.1% to $5.3 billion.
Revenue generated in the U.S. during the second quarter of this year totaled around $1.2 billion vs. roughly $1.1 billion, an increase of 8%. During the first half of the year, U.S. revenue was $2.1 billion compared to just under $2 billion during the first 6 months of 2017, up 9%.
Other Ag-Related Earnings
Alamo Group reported on August 1 that it produced both record net income as well as record net sales for both the second quarter and first half of 2018. Net sales for the quarter came in at $257 million, up nearly 21%, as the agricultural division's net sales increased by nearly 9%. The company also said its backlog, as of August 1, stood at $220 million, up 40% vs. the second quarter of 2017.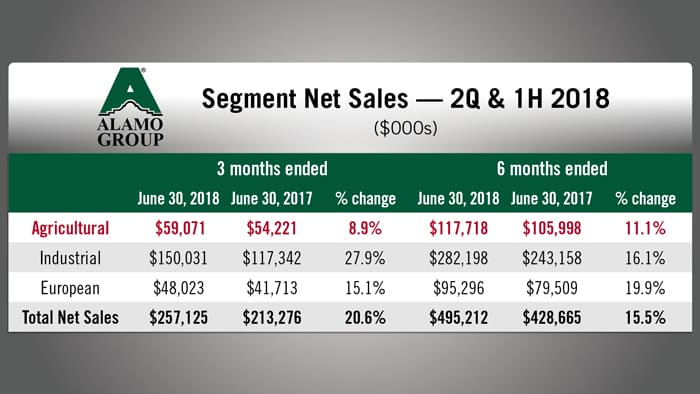 Farm and off-road tire and wheel maker Titan International reported net sales were up by 18% year-over-year, the company's sixth consecutive year-over-year quarterly increase. Net sales for the second quarter of 2018 were $429 million vs. $364 million for the same period in 2017. For the first six months, net sales reached $854 million, an increase of 18.3%. The agricultural segment of Titan International's business was up by 8.1%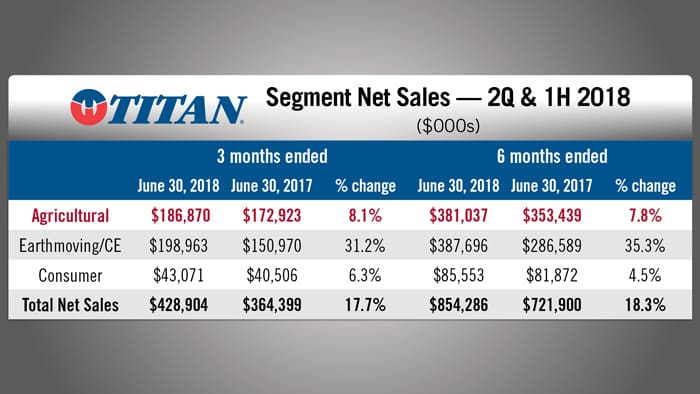 RME Sales Rise 28%
Rocky Mountain Dealerships, Canada's largest ag equipment dealer which handles Case and New Holland-branded equipment, reported that its total second quarter sales increased by nearly 28%, or $66 million, to $303 million vs. $237 million in the same period last year. According to the dealership group, this was a new company record for second quarter sale of new equipment, which grew by 46% year-over-year. Used equipment sales were up by 18% and sale of parts rose by nearly 4.5%.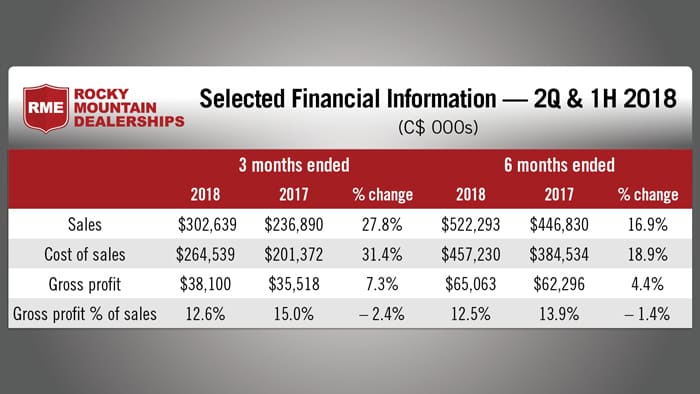 Gross profit for RME increased by 7.3%, or $2.6 million, to $38 million, compared to $36 million for the same period in 2017.
Also on a positive note, Rocky Mountain noted that used equipment sales levels outpaced trade-ins, allowing the dealership to draw down used equipment inventory on a sequential basis despite the trade-in volume associated with record second quarter new equipment sales.
Dealers on the Move
This week's Dealers on the Move include Rocky Mountain Dealerships, MirTech Harvest Center, Gooseneck Implement and P&K Equipment.
Earlier this week, RME announced they had entered into an agreement to acquire the business assets of Moody's Equipment, a new New Holland dealer based in Alberta. The acquisition is subject to a number of conditions, including approval by New Holland.
Claas dealer MirTech will begin operations at the Boyle, Miss., location of Thompson Agriculture and will distribute all Claas products in portions of Mississippi and Tennessee. The Boyle store is MirTech's fourth Harvest Center location in the Delta and will become its Mississippi headquarters.
John Deere dealer Gooseneck Implement has acquired Dakota Farm Equipment's 5 store locations in North Dakota. This brings Gooseneck up to 13 retail locations, including its business center in Minot, N.D.
P&K Equipment is acquiring Grissoms, a neighboring John Deere dealer with 5 locations throughout Oklahoma. These stores will join P&K's 13 existing locations, which include 11 in Oklahoma and 2 in Arkansas.
And now here's James DeGraff with the latest from the Technology Corner.
New Leadership for SeedMaster Mfg. and Dot Technology Corp. Reflect Commitment to Autonomous Expansion
Over the past few months, Seedmaster MFG. and sister company Dot Technology Corp. finalized the hiring process for new corporate leadership. Leah Olson, who previously served as president of the Agricultural Manufacturers of Canada, will serve as CEO, while Jeffery Bourasa will bring 15 years of Saskatchewan-based finance and leadership experience into the CFO role.
The transition comes off the heels of the autonomous DOT Power Platform being introduced to shortline manufacturers.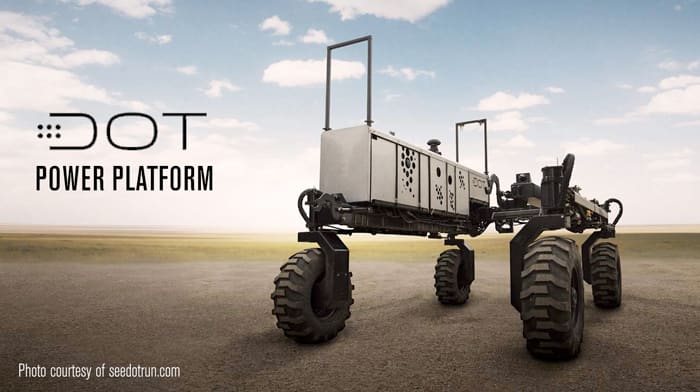 Over the past year, companies such as Raven Industries and Pattison Liquid Systems reached agreements to design equipment for the diesel-powered DOT attachment, which is intended to navigate machinery in lieu of a tractor.
Norbert Beaujot, president and founder of SeedMaster and DOT, says several SeedMaster implements have also been designed as DOT-compatible, with successful examples including a land roller, grain cart and seeding unit. The attachment is remote- controlled if adjustments are needed and incorporates hydraulics, GPS and satellite mapping concepts to navigate a variety of machinery.
Crucial to DOT's success, Beaujot adds, is convincing farmers that bigger isn't always better when it comes to improving equipment, and if growers can embrace autonomy and significant changes to their setup, it'll pay off in the long run.
"The tractor, to me is obsolete. It's too inefficient and there's better ways. Seedmaster has built drills for many years and we've been building bigger and bigger and bigger drills. We were the first in North America to build a 100-foot seeder quite a few years ago. As an engineer and as a farmer, the inefficiencies of those large pieces of equipment were weighing on me heavily. So about 3 years ago, I was dwelling only on that, "how can we improve on inefficiencies," because it wasn't going to be a 120-foot seeder. The bigger and bigger equipment have been developed primarily because there's been a shortage of expert help on farms. You've got these half or a million-dollar pieces of equipment, you have to select the operator very carefully. And when you do that, you have him cover as many acres as you can. But when you take that out of the formula, all of a sudden you look around and if you make it autonomous, then all you're looking at is 'well, what's the most efficient for the farmer?'"
While currently available on a limited scale, the DOT Power Platform is expected to expand its market availability in 2019. If farmers adapt to autonomy the way Beaujot envisions, perhaps we'll see a new definition to typical machinery in the years to come.
Horsch Aims for $100M in NA Sales
German tillage tool, sprayer and seeder manufacturer Horsch has launched its U.S. demonstration farm in Downs, Ill. The 160 acre former Beck's Hybrids facility is now called the Horsch AgroVision Farm.
Ag Equipment Intelligence was on hand for the company's first field days event in late July. The new facility will be used to trial and demonstrate different agronomic, crop and rotation options to stimulate learning among U.S. growers, not just provide a showcase for Horsch products, according to Bruce Hart, general manager of Horsch North America.
The opening of the demo farm signals Horsch's continuing effort to substantially grow its North American business, eventually quadrupling its sales.
Horsch's international business employs 2,000 people and has produced $600 million in worldwide sales.
Optimism Rises Over Farm Aid Package
Recently, the Trump Administration announced an aid package that would provide short-term relief for farmers who are feeling the effects of ongoing trade disputes between the U.S. and other countries. The plan authorizes up to $12 billion in programs to assist agricultural producers to meet the costs of disrupted markets, according to the USDA.
"This is a short-term solution to allow President Trump time to work on long-term trade deals to benefit agriculture and the entire U.S. economy. The President promised to have the back of every American farmer and rancher, and he knows the importance of keeping our rural economy strong."
The announcement had an immediate effect, with investors and industry officials expressing optimism about their prospects in the near term. The Wall Street Journal reported shares of farm equipment makers got a boost after the Trump administration announced the aid package.
We also spoke with some equipment dealers during the 2018 Dealership Minds Summit, which was ongoing as the news broke of the aid package. Leo Johnson, president of Johnson Tractor in Janesville, Wis., says the aid will likely translate to a more positive outlook from customers.
"Well I think there should be an immediate impact on our customers and our business. I think that right now our customers are suffering from a little bit of a stagnation and feel that their government isn't supporting them, and the tariff thing has gotten everybody a little bit down in the dumps, so I believe it will be an immediate impact, if nothing else, just for their attitude."
And now from the Implement & Tractor Archives …
Implement & Tractor Archives
Case IH entered the American bicentennial celebrations of 1976 with a limited-edition "Spirit of '76" livery on the new 1570 two-wheel drive tractor. Around 200 of the 1570 Spirit tractors were built, plus a handful of 1370 and 446 Spirit garden tractors were assembled primarily for use in the 1976 Racine, Wis., bicentennial parade.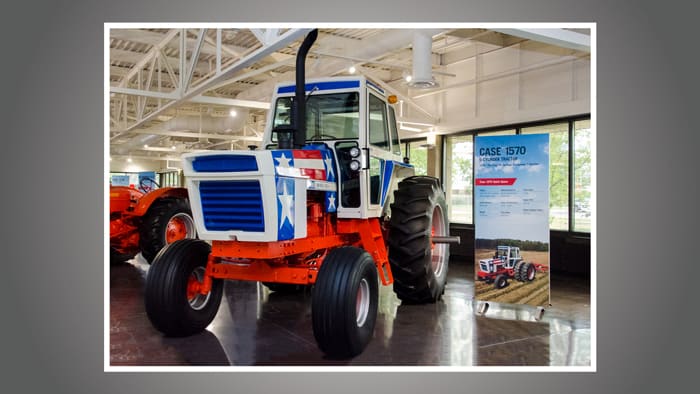 This particular tractor is on display at Case IH Racine Experience Center.
As always, we welcome your feedback. You can send comments or story suggestions to kschmidt@lessitermedia.com. Until next time, thanks for joining us.